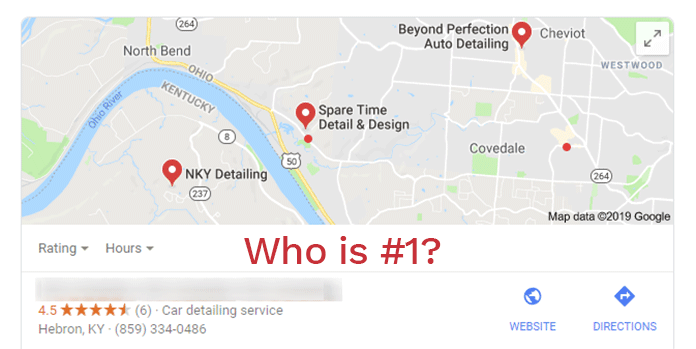 Do you know what detailer is ranking first on Google for your area? If you are not number one, it should motivate you. Take a couple of minutes to perform this short exercise. Think of the top five phrases you think people use when searching for a detailer. Write them down. By the numbers, here are some of the top searched terms:
car detailing near me / car detailing in [insert city]
auto detailing near me / auto detailing in [insert city]
interior car detailing
car detailing services
mobile detailing
Now, combine your list with ours and actually Google these phrases (I would avoid using near me if you are located at your place of business because you will likely rank number one solely based on the proximity). Create a list of all the businesses that show up for those search terms (you will do more with this list later).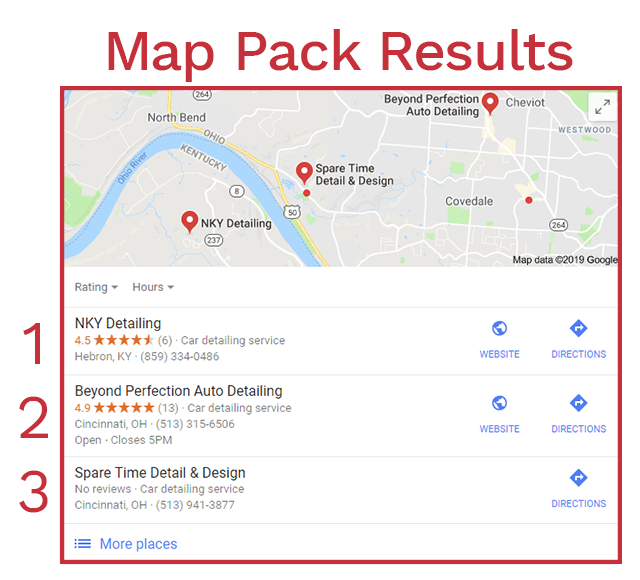 Does your business show up in the top three results, or the "map pack" as it is called, for any of these terms or phrases? Being listed in the map pack for the phrases you just searched
is important
. Nearly half of all searchers click one of those three results. The first result gets around 30% of traffic, followed by about 15% for the second, and 10% for the third (according to
Smart Insights
).
Think Like Your Customer
One of the main reasons why you should be monitoring who is in the top three results for terms you want to rank for is to be informed of what potential customers are encountering. If someone searches for "car detailing near me" and the first two businesses that show up are volume based or fly-by-night detailers who are undercutting everyone's prices, you know that you'll have more objections on pricing to overcome if someone calls you. I can hear it now, "This guy down the street will do it for $100 less." If your prices are significantly higher than those who are ranking ahead of you, be ready with a good rebuttal and educate the potential customer on why your services cost more and are worth it. This method of thinking doesn't just apply to your phone conversations. Many potential customers will not even pick up the phone if you cannot justify your pricing over your local competitors on your website, through reviews, and with pictures. When
we build websites for detailers
, we take all this into consideration and have proven tactics to show the value of your services regardless of price. Quick note. It's important to keep tabs on your competitors, even if you don't consider them your competition. It's smart to be informed and educated about the other businesses in your area that are marketing the same services as you are. It might be insightful to call your competition asking them questions about their services, products used, or general business questions. This will not only help you craft the best responses when someone brings up a competitor, but it may trigger some ideas on things you could be doing differently with your business.
Why Show Your Prices On Your Website?
A natural response to competing against lower-priced detailers in your area is to not list prices at all and invite the visitor to call for pricing. This allows you to sell your business and services over the phone. This is a double-edged sword. You may get more calls if you don't list your prices on your website, however, you will get
less qualified calls
. Your time is money, and to be interrupted during a detail or spend time fielding calls from someone looking for everything under the sun for $99 is a complete waste of time. And even if you were to convince that person that your services are worth the extra money (after a long conversation), it is going to be much harder to exceed their expectations and keep them as a repeat customer or get quality referrals out of them. Strategically adding pricing can help weed out people who aren't your target customer, and in the long run, will help you achieve your goals faster.
3 Things To Focus On
Back to the theme of thinking like the customer, what are the top three things your business needs to have in order to win someone over from a search?
1. Business Reviews
If you do make it into the map pack, what is the most obvious differentiator? Reviews. It's so easy to see that someone has a 5-star average review compared to someone who has a 3-star average review. Chances are someone who performed this search would click on the company with the 5-star rating, even if it ranked second or third in the map pack. This leads to the number one thing to focus on, asking every satisfied customer for a review.
2. A Complete Google Business Listing
Usually, before someone leaves Google to go to a business website, they may click into their listing to see what else Google has about that business. Having a complete profile that really tells a complete story of who you are and what your business is all about is extremely important. As a detailer, some of the top things to consider are what images you upload to Google, adding your phone number, business hours, and link to your appointment page. Having your website is also important, however, be sure to add in the page to make an appointment as you will get an additional line of data on your listing which actually displays your website.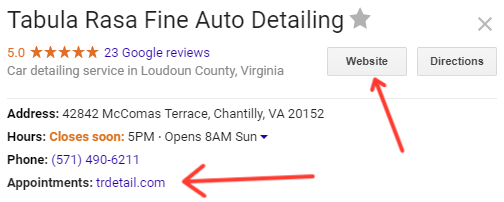 Here is an in-depth
guide on Google My Business
to maximize your listing for potential customers.
3. An Intentional Website
You have intrigued the visitor enough from your Google listing that they click on your website. How are you going to convert them from a visitor to a lead? When we
build an auto detailing website
, we focus on the following things:
Branding and Messaging
User Experience on All Devices
Converting Visitors into Leads
Getting Found on Search Engines
Showcasing Your Services
Educating Potential Customers
Speed and Responsiveness
Advanced Analytics Tracking
Integrating With Other Systems
And much more!
That's a lot to think about if you are a DIYer when it comes to your website. And chances are even if you are working with a web partner, they aren't doing all of those things or are looking at your business from the perspective of a potential detailing customer or tracking things that matter to a detailing business owner.
How Can We Help?
Hopefully this article shed some light on some things you can focus on to improve your local marketing efforts and website. If you have any questions on anything presented here or would like help implementing any of these ideas on your site, please do not hesitate to
contact us with any questions
. We look forward to speaking with you.